Meet Dr. Sarah Williams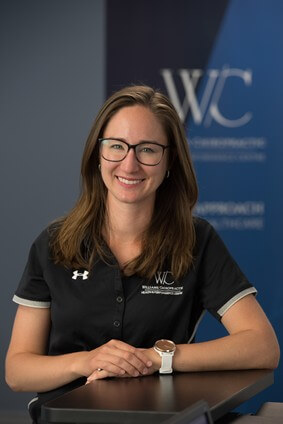 Dr. Sarah grew up in Niagara Falls, Ontario and came to Fredericton in 2015 after graduating from Canadian Memorial Chiropractic College (CMCC). But the inspiration to become a chiropractor began as a 10-year old hockey player.
"It was my grandmother who started all this," smiles Dr. Williams. "She asked my mum if I was getting chiropractic care. When she learned that I wasn't she asked, 'And why not?'". Chiropractic Care helped Sarah through her various sports and orthodontic work. In highschool a locking jaw was helped by a chiropractor using a small hand instrument called an Activator™.
"It was a lifesaver. I was impressed by what that chiropractor was able to do," remembers Sarah. "But it was the chiropractor that used acupuncture who helped me during my recovery from a dislocated shoulder playing hockey for McMaster University – that's when I decided to pursue chiropractic."
Her interest in kinesiology and ergonomics deepened at CMCC. She spent two summers as an industrial and office ergonomist to help improve safety, and reduce strain on workers. Services she continues to offer in addition to her clinical practice.
But it was the alphabet that produced an even greater change.
"At CMCC lab partners were assigned alphabetically," remembers Sarah. "Since my last name started with a W (Warren), I was teamed up with Matthew Williams. And the rest, as they say, is history."
Dr. Sarah graduated with magna cum laude ("with great distinction") and the top Clinical Achievements Award.
Interdisciplinary Approach Guided By Personal Experience
Because of how she was helped by various healing modalities, Dr. Sarah has taken courses in Activator Methods™ and acupuncture. She also received additional training in the fascial distortion model, active release technique and RockTape. Her certification in strength and conditioning helps performers of all types.
Dr. Sarah is the proud New Brunswick representative on the Canadian Memorial Chiropractic College (CMCC) Board of Governors and on board for the New Brunswick Chiropractor's Association (NBCA).
Dr. Sarah is a provider of:
Outside the Office
Dr. Sarah hasn't hung up her skates. She hopes to coach someday and inspire the next generation. She loves running and working out. You'll find her encouraging everyone she meets to do the same.
When she isn't helping patients or enjoying the outdoors, she represents New Brunswick on CMCC Board of Governors. She also volunteers on the provincial chiropractic board.
Call Williams Chiropractic Health & Performance Centre today to schedule an appointment.

Dr. Sarah Williams | (506) 452-1609