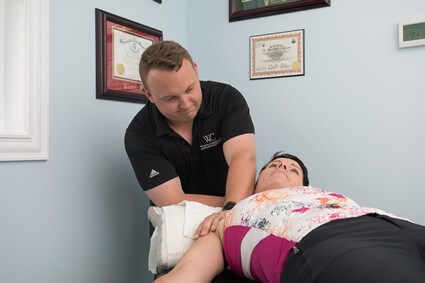 Chiropractic Care
Chiropractic is considered to be a safe, effective form of healthcare. It addresses your back, neck and all joints of the body. The many types of conditions chiropractors often see include
Ankle sprains
Concussion management
Golfer's elbow
Headaches and migraines
Knee sprains
Low back strain
Osteoarthritis pain
Plantar fasciitis
Shin splints
Tennis elbow
Whiplash injuries
And much more!
Tailoring Our Care to You
In your care, we will chose the techniques that work best for you. Our chiropractors often use Diversified, which takes a bit from a variety of the methods available. Our tailored approach may also involve soft tissue therapies, acupuncture, taping/postural training and nutritional counseling, which you can read more about below.
In the 1980s, Dr. P. Michael Leahy used his knowledge in engineering and his chiropractic expertise to develop this form of treatment. With it, we can address a range of soft tissue disorders to help you return to your favorite activities.
If your body's tissues are irritated or painful, we can utilize dry needling or electroacupuncture. Both will decrease the irritation and your discomfort levels and allow your chiropractic adjustment to be more effective.
If your shoulders roll forward or you have other alignment problems in your posture, it can cause pain all over your body. We'll help you with postural training to make sure your body is in the right position and reduce your discomfort. If necessary, taping is available to reinforce your posture.
There are various health conditions that require supplementation. For example, high-level studies show that headaches and migraines can lessen in frequency and intensity by taking magnesium, riboflavin and CO-Q10. We have the knowledge to let you know what you can do to improve your health through supplementation.

Chiropractic Care | (506) 452-1609