Acupuncture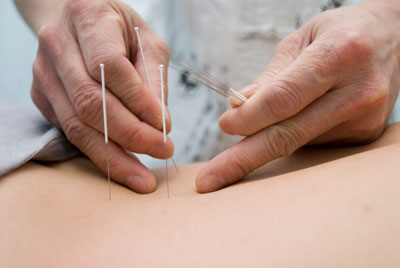 At our practice, we aim to help people of all walks of life feel like their best and most healthy self. We know that it sometimes means going beyond chiropractic care, and we're incredibly happy to have other offerings-including natural acupuncture.
Acupuncture uses many small, thin needles during a session which are carefully placed where your body needs relief. During a session, we'll first determine your problem areas and talk about your health goals to get the best idea of how to help you.
Acupuncture is designed to help ease a variety of conditions, and we've had patients experience incredible results when it comes to muscle pain, chronic headaches or migraines, tension, shoulder complaints, low back and glute issues and more.
How Does Acupuncture Work?
Acupuncture needles will be carefully inserted into your area in order to target problem areas and activate the nearby muscles. This allows your muscles and joints to sort of "reset" and "restore". In addition to using needles, we always use electrical stimulation during a session for even greater results. Electrical stimulation is designed to stimulate muscles further, causing them to "twitch" during treatment-but we promise you'll still feel calm and relaxed.
We're proud to say that acupuncture and electrical stimulation can be used on patients of all ages-we frequently see everyone from desk workers to extreme athletes to individuals in their 90's!
If you're curious about acupuncture but feel nervous about the treatment-don't be-we're here for you. We'll gladly speak with you before we ever place a needle to help you feel calm and ready for care. We often find that when you're excited and ready for a session, you'll have much better results than if you were anxious and tense.
Learn More Today
Ready to find out if acupuncture is right for you? We're happy to meet with you and learn more about your needs. Contact us today if you'd like to schedule an appointment-we can't wait to learn more about your health goals.
BOOK APPOINTMENT »

Acupuncture Fredericton NB | (506) 452-1609