About Us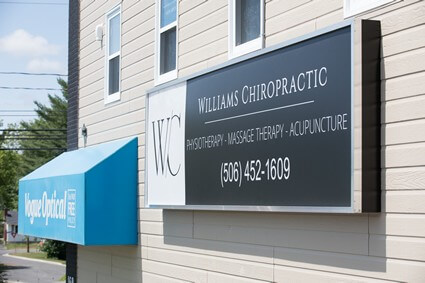 Husband-and-wife team Dr. Matt and Dr. Sarah Williams established Williams Chiropractic Health & Performance Centre on June 20, 2015. Dr. Matt was born and raised in Fredericton. After meeting Dr. Sarah at Canadian Memorial Chiropractic College, they decided to return to our community and open their practice.
As Dr. Matt and Dr. Sarah began seeing patients, the need for further healthcare disciplines arose. Over time, more services have been added, including acupuncture, massage therapy and physiotherapy.
Why We Take an Interdisciplinary Approach
When it comes to your care, we want to ensure that everything you need is available to you. Our practitioners have different specialties and various backgrounds, meaning they can cater to a broad array of people. We enjoy teaming up to co-treat people. When you join our practice, you'll have the benefit of all our expertise. If another opinion is required, we can get what we need in-house rather than having to refer you out.
If we find that you need something we don't have available, we'll be sure to tell you who we think you should go to.
Our Mission
To get people back to doing what they want to do, as quickly as possible.
Find Your Solution With Us
One of our particularly memorable cases involved a man who had been to see everyone he could think of. Medical doctors, physiotherapists, chiropractors and massage therapists couldn't make a dent in the pain he had from a herniated disc. The intense, burning pain down his leg plagued him for years. Finally, he saw Dr. Matt. After just two adjustments, the pain was gone.
We dive deep and take the time to figure out the source of your pain. We're methodical in what we do and the treatment we provide.
MEET THE DOCTORS »
A Focus on Sports Care
Dr. Matt is a Fellow of the Royal College of Chiropractic Sports Sciences (FRCCSS). This intense program began while Dr. Matt was still in chiropractic school. Simultaneously, he was finishing a Master of Science in Exercise and Sport Science at the University of New Brunswick. With an in-depth knowledge of sports-related injury and how to keep you well, he is the chiropractor of choice for active people in our area.
Contact Our Team Today
We're here to take your call or answer your message. Contact us now to become a new patient! We have convenient late opening hours available.

About Williams Chiropractic Health & Performance Centre | (506) 452-1609